Details
Similar products
Info
Opinions
Ingredients
Details
The caffeine and the 26 different medicinal herb extracts in this shampoo improve the micro-circulation in the sculp and strenghten the weakened hair follicles. The shampoo comlements the effects of the Helia-D Regenero anti hair loss treatment. Gently cleans your scalp and hair. Skin-friendly pH value.
For optimal results leave the shampoo on your scalp for 2 minutes before rinsing your hair.
Similar products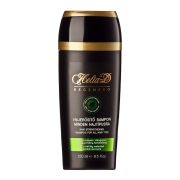 Info
Opinions
Be the first to review this product!
Ingredients
Aqua, Sodium Laureth Sulfate, Cocamide DEA, Cocamidopropyl Betaine, Glycerin, Phenoxyethanol, Sodium Chloride, Caffeine, Helia-D Regenero (Aqua, Alcohol, Quercus petraea, Agrimonia eupatoria,Matricaria chamonilla, Calendula officinalis, Hypericumperforatum, Melissa officinalis, Equisetum arvense, Rosacanina, Urtica diocia, Taraxacum officinale, Achilleamillefolium, Juglans regia, Salvia sclarea, Sinapis alba,Fenoeniculum vulgare, Mentha piperita, Plantaginisfolium, Cichori herba, Rosmarinus officinalis, Menthacrispa, Melilotus officinalis, Betula verrucosa, Verbeneaofficinalis, Shymphytum officinale, Hyssopi herba,Lavandula angustifolia), Parfum, Glycol Distearate, Polyquaternium-7, Alcohol, Citric Acid, Cocamide MEA, Disodium EDTA, Menthol, Ethylhexylglycerin, Laureth-10, Formic Acid, Linalool, Limonene, Eugenol, Geraniol.